LéO Africa Institute and Konrad Adenauer Stiftung (KAS) are proud to announce the YELP Class of 2023. Comprising ten exceptional fellows, this distinguished group represents a rich tapestry of expertise spanning entrepreneurship, technology, law, innovation, banking, and wildlife conservation. These promising emerging leaders hail from Somalia, Kenya, Tanzania, Uganda, and Rwanda, strengthening the YELP Network in the region.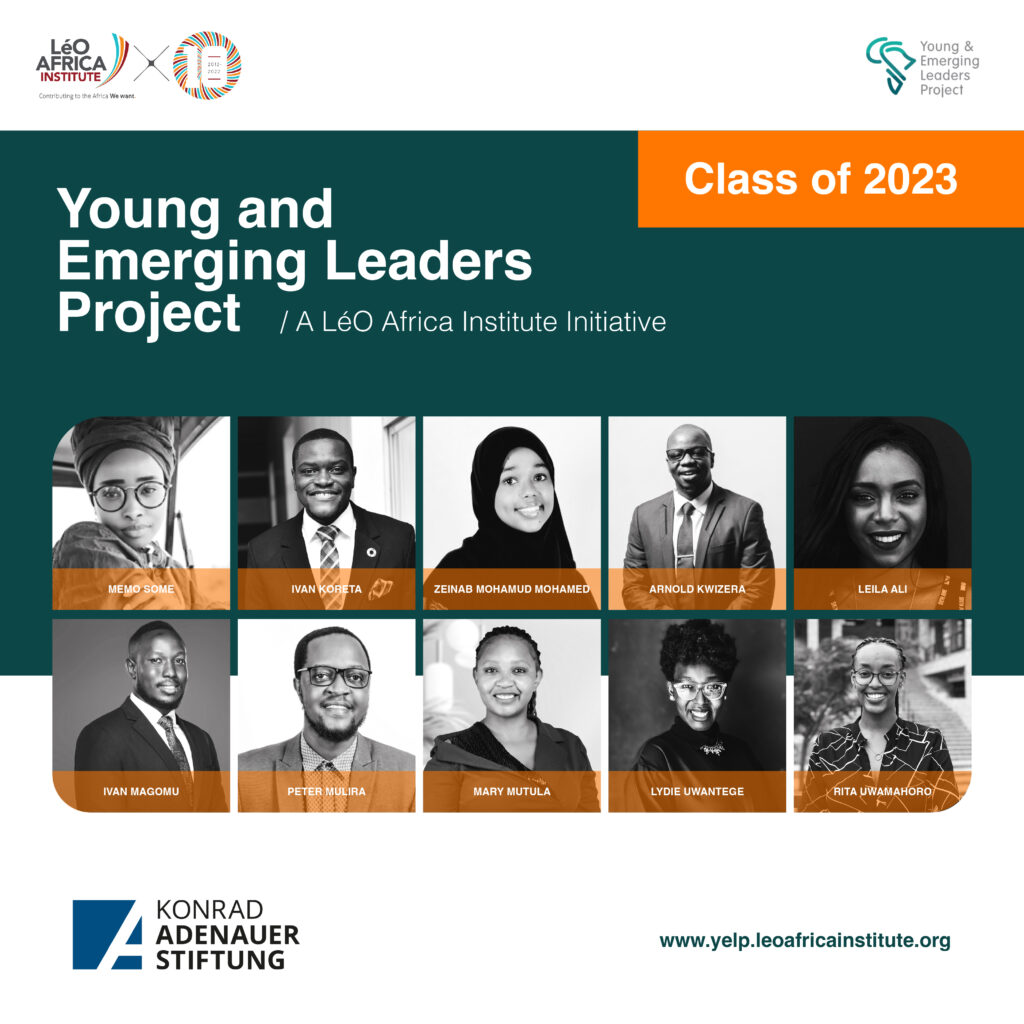 Meet the YELP Class of 2023
Arnold Kwizera – Ecosystem manager, Norrsken East Africa (Rwanda)
Ivan Koreta – Innovation and Community Specialist, The Innovation Village (Uganda)
Ivan Magomu – Associate, Hills Advocates & Solicitors (Uganda)
Leila Ali – Chief Operating Officer, Infotech Investment Group (Tanzania)
Lydie Uwantege – Operations Manager, Institution of Engineers Rwanda (Rwanda)
Mary Mutula – Executive Director, Youth For Sustainable Development Machakos (Kenya)
Memo Some – Climate Change Advocate (Kenya)
Peter Mulira – Business Development and Aftercare Executive, Uganda Investment Authority (Uganda)
Rita Uwamahoro – Operations Associate, The African Leadership University (Rwanda)
Zeinab Mohamud Mohamed – Supply Associate, UNICEF (Somalia)
About the YELP Fellowship
The Young and Emerging Leaders Project (YELP) is designed to train and orient values of self-advancement, integrity, social responsibility, and socioeconomic transformation.
The YELP fellowship picks individuals who are clearly on the path to success and empowers them with knowledge and skills to navigate through the pitfalls of success and dangers of leading change. YELP Fellows were brought together by the LéO Africa Institute, trained and equipped with skills to achieve success, living high-impact and fulfilled lives.